Written by Javier Soltero, September 4, 2014
Today marks the exciting start to the next phase of Acompli, where we begin introducing innovation on top of a core application experience designed to help professionals "do more email" from their phones. Equally exciting is that we're now making all of this available on Android too.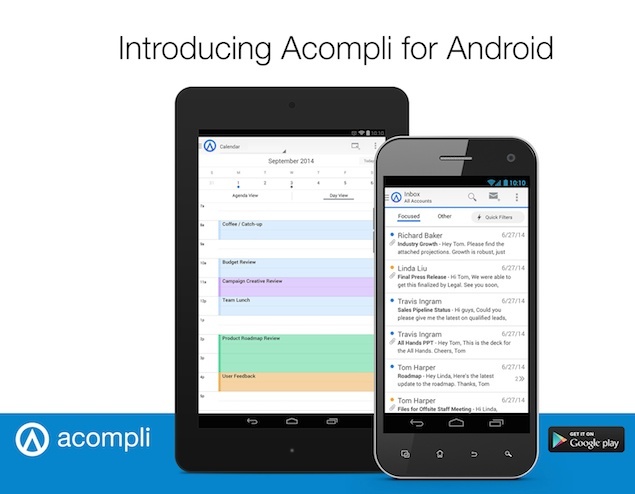 Where We've Been
If we go back to well over a year ago, when we began the initial development of the Acompli app, we focused on empowering professionals to do more with mobile email. Here's what we believed (and still believe) gets in the way:
Composing anything more than a basic message is hard
Finding things in your email is hard
Switching in and out of the email app is hard
Based on that thinking, we built a new kind of email app that served up lightning fast email and had the ability to manage your calendar, files and key contacts in a way no other mail app had done before. We combined the unique usability of a mobile app with a new approach to helping professionals complete the kind of workflows they encountered every day.
What We've Learned
Since releasing Acompli for iPhone about five months ago, we've tuned the app based on fantastic feedback we received from our users. We also looked at how people were using the app, and learned there was an even more fundamental issue that needed solving: helping people find the emails that matter. In other words, while our app does a great job helping people do more with mobile email, people needed more help getting to the emails that matter in the first place.
There are two email trends widely covered by industry analysts that helped us come to this conclusion. The first is that, year-over-year, the volume of email we receive will continue to grow. The second is that we will continue handling more email from our mobile phones. The third trend came from our own research. Looking at how people use the Acompli app, we found the significant majority of users have overrun email inboxes. What do I mean? Way too many unread emails to easily browse through. But what about all the buzz around Inbox Zero, you say? Aren't a lot of people getting better at working harder on keeping clean inboxes? Turns out only about 10 percent of us can be called inbox zero. The other 90 percent are losing the email battle and finding it increasingly hard to get to important emails.
Covering our bases, we then looked around at what other email companies were doing about this. It turns out, not very much. The most popular area of focus seems to be around triaging and deferring, making it easy to delete emails or snooze emails. Some have designed very nice apps around this principle, but these aren't really helping you make progress in your inbox. Instead, you live in constant struggle, beating down your inbox and creating future work. Because our mission is to help you do more and defer less, we were compelled to help you find the emails that matter more quickly and then act on them, all from your phone.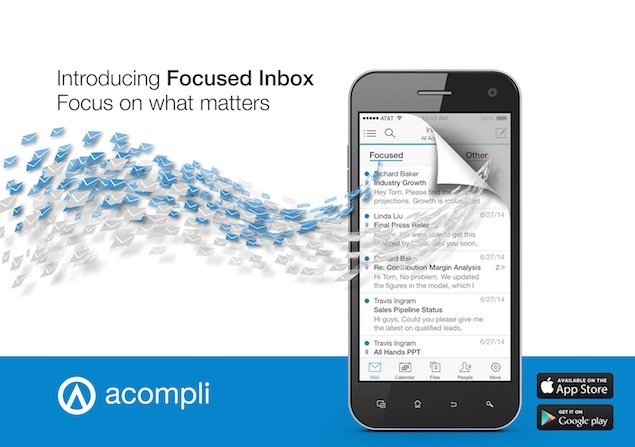 Where We're Going
Today, we're excited to introduce Focused Inbox, our most important innovation to date. It works by understanding how you interact with your email and contacts to figure out what email is most important to you. At the same time, we take away "noisy" email, like automatically generated ones or those sent to a bulk list of recipients. Now when you open Acompli, your inbox shows two inboxes: "Focused" and "Other." It's automatic, you can easily switch between the two inboxes and it keeps learning over time. Don't worry, if you think an email belongs in the other inbox, you can easily re-classify it. And, of course, you can turn it off and on whenever you like. Best of all, it works across all your email accounts, personal and professional.
Now I realize it may sound a little too good to be true. Truth be told, we worried most about having your Focused Inbox feel right to you. After all, an email that's important to you might not be important to me. So we put Focused Inbox through a long beta with thousands of people, refining how we decide what goes into "Focused" or "Other." The result is an experience that our beta community overwhelmingly described as spot on. Imagine opening your email app on your phone, that has all your different email accounts connected to it, and that is chronically overrun. Now imagine opening it, and magically seeing only the right email. That's what we strove for with Focused Inbox, and we're excited about the results.
But wait, there's more. Consider for a moment how "chatty" your phone is – it's constantly buzzing with notifications and a growing badge count, that little red circle that shows how many unread email you have. This is both distracting and creates anxiety. Do you really want to get buzzed when that retailer you haven't bought anything from in over a year has yet another sale this week? No. So we also sync your notifications and badge counts to your Focused Inbox, so you're only notified when it's important. Again, you can change the settings on this if you like.
Focused Inbox solves one of our users' biggest hurdles to handling more email on mobile – finding the right emails in a noisy inbox. By bringing Acompli to more people and making it more personal, we believe we're making progress on our mission to help people get more done on mobile.
Focus on What Matters
With Focused Inbox, Acompli gives you full suite of tools for getting work done on your phone, including an integrated calendar and file management system, with support for Dropbox, Google Drive and Microsoft OneDrive files. By intelligently presorting your inbox, we reduce the clutter for you automatically. In some cases, it cuts down the number of emails by anywhere from 50 to 90 percent, depending on how inundated an inbox is.
Finally, because there are some emails that you actually want to handle later, we've also added Email Scheduling. Just Swipe right on an email to clear it from the inbox for a few hours, later in the day, or the next morning – whenever you're ready to handle it.
These features combine to give you the most powerful email inbox on mobile, that knows what emails matter to you, and keeps learning the more you use it. I invite you to try Focused Inbox and Email Scheduling on iOS or Android. The Acompli app is a free download from the App Store on iPhone and iPod touch, and in the Google Play store for Android phones and tablets.
Further proof that query suggestions are a window into our collective soul, and that the view there is terrifying.
https://t.co/AOzjT6PZJQ
- 15 hours ago
Latest posts by Javier Soltero (see all)
3 Responses to "Acompli Puts Email Into Focus, and on Android"