Written by Javier Soltero, February 20, 2014
After 9 months of building, we are proud to officially announce Acompli, a new email application and cloud service built for mobile professionals.
Email remains among the most widely and frequently used applications on smartphones. It was the killer app on the PC and it remains the killer app on smartphones. These days people email more than they make calls on these "phones." Among professionals, the number of email accounts and the number of emails sent has grown for the last 20 years and will continue to grow for the next 20. It's the connective tissue of the workplace.
Now, with so much email sent on phones, here's the question that got us scratching our heads: Why do people apologize so much when they email from their smartphones? Not sure what I mean? Just start paying attention to the email footers you receive from people who send emails from phones. You'll see messages like "Sent from my (fancy phone) with all thumbs" or "Please excuse the brevity" or "Sorry for the typos." Think about it. When has there been a product that people increasingly use even though it embarrasses them? The combination of simultaneously growing frustration and demand made us want to investigate the root cause.
While professionals have depended on email for about 20 years, mobile email started taking off about 10 years ago. The game changer was a device that allowed people to bring email with them "in their pockets." Devices with QWERTY keyboards helped unleash an era of messaging that has yet to crest. Led by a dominant mobile communications company, sometimes even with two CEOs, messaging swept through the enterprise.
Today, however, things have changed. Technology, design and user behavior have all rapidly evolved, and new companies dominate, displacing declining giants. Physical keyboards are no longer necessary. The rapid adoption of 1.4 billion active smart devices with touch screens prove that. Smartphone consumers now expect location-aware supercomputers in their pockets with beautiful, gesture-based touch interfaces, connected to a limitless cloud by a super fast wireless connection. Sure, that device needs to make the occasional voice call, but that's been dwarfed by everything else that a smartphone can do today.
What hasn't changed is the importance of a few killer apps, especially email. Why? Because sharing, collaborating and communicating are the basic elements of every professional's life, made better and easier by open technology like email and, more specifically, by email on smartphones.
Acompli believes that the email killer app should unapologetically unleash the power of the modern smartphone. The key to doing so is by turning smartphones from email reading devices to email doing devices.
Fixing this problem begins by addressing 3 things that prevent professionals from sending more email from their phones:
1. Composing anything more than a basic message is hard
2. Finding things in your email is hard
3. Switching in and out of the email app is hard
The upcoming release of Acompli introduces powerful new ways to manage calendars, attachments and contacts. These new capabilities are all built with the mobile professional in mind and designed to help people excel on the job and free up time to do things other than work. From more easily scheduling meetings and managing calendars to finding the right version of that file a coworker sent last week, Acompli will make "doing email" on the smartphone a simpler, more powerful experience.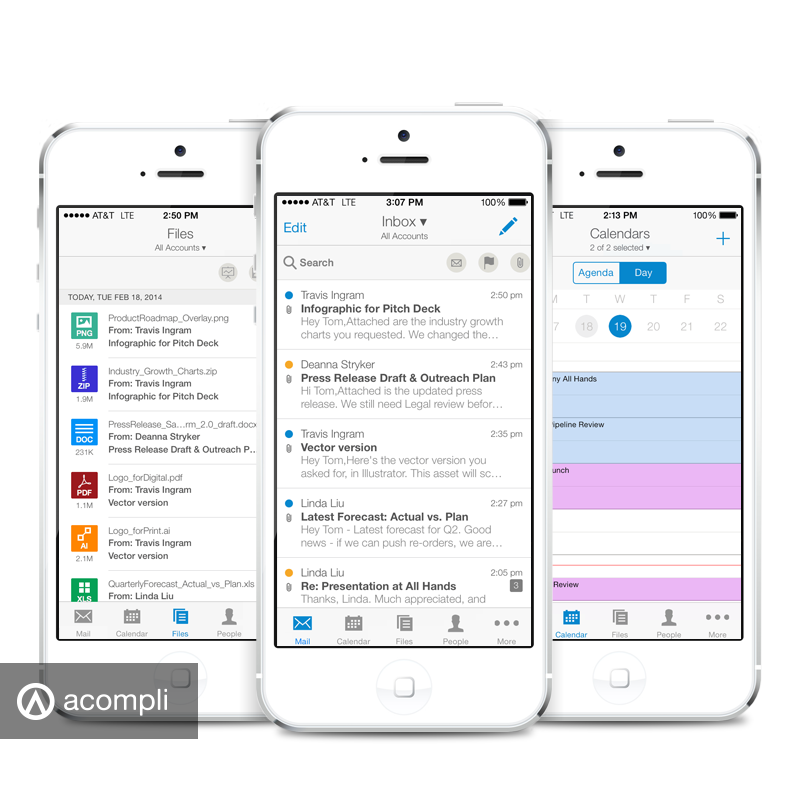 As a company, we see an opportunity to combine peoples' love of beautiful, useful apps with the power and capability of a corporate IT organization. The boundary between "my technology" and "my company's technology" will continue to blur to the point where solutions that wall off the enterprise at the expense of its users will be of limited use. Email is at the center of this blurred divide, and is the primary communication tool for businesses around the world. It is also the primary source of notification, the most tangible source of identity, and a key part of just about every workflow in business today. As we considered these facts, we arrived at a clear conclusion: The road to building the next great enterprise software company — the one that combines products that users choose and love with the trust of the IT organization — starts with reimagining email for the mobile workforce.
We are at the beginning of a long, exciting journey. I am thrilled to be working with the support of amazing investors whose backgrounds match our team's mix of enterprise and consumer technology, infrastructure and design. We invite you to sign up for our early access program and join us in building a new kind of business technology company.
Latest posts by Javier Soltero (see all)
7 Responses to "Sent from Acompli"